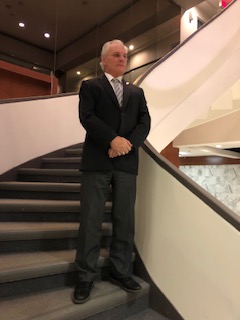 Terry is passionate about safety and security in the hospitality industry.

Terry A. Watson … CLSD & CHDT, Senior Professional Advisor
He knows it is in the best interest of everyone's safety to include all levels of management and security personnel in the assessment, planning, development and implementation of your establishment's security program.
He strives to produce highly-effective custom procedures that make up the type of security program that not only keep people and assets safe, but help to meet the security aspects of all your department's missions.
How does Terry do this?
He has 40 years of experience in the safety and security industry.
He has been responsible for all aspects of life safety and security for establishments ranging from large hotels to small, privately owned inns.
He has 12 years participation with Workplace Safety and Prevention Services [formally OSSA] as well as experience managing budgets, financial controls, audits, and internal investigations.
He has also been hand-picked by hotels for his exceptional skills in recruiting, training, and motivating all levels of employees including line staff and management.
Terry is member of ASIS International, Associate Member of the I.F.P.O. [International Foundation of Protection Officers] and is a Certified Hospitality Lodging Security Director and a Certified Hospitality Department Trainer with the American Hotel Lodging Association.
Terry has completed the IHG – Security Manager's Training Program. Terry has also completed several courses from the [H.I.T.S.] High Impact Training Systems … Professional Security Officer Program, Physical Security Program and Fire Safety Basics
Terry is a member of the Bracebridge Chamber of Commerce
Terry is also the Office Manager for the Canadian Process Serving Inc. in Bracebridge. Terry's office covers from Bracebridge, to the north end of Orillia and as far north as Burks Falls, Haliburton to the east and to the west, Parry Sound.
Terry holds a Security Guard license [136261] with the Ministry of Safety and Corrections Services
His specialties are:
WHMIS 2015
Accident Investigation
Working knowledge of the Ministry of Labor … Work Well Program
WSIB Certified … Level 1 & 2
Workplace Violence and Harassment
Smart Serve
Crisis Management Guidelines
Active Shooter Training
He is also the owner and operator of a Bed and Breakfast in Bracebridge, Ontario – Spirit Bear B and B